Hoy me he permitido tirar de archivo y enseñaros uno de los esmaltes que lucí este verano. Se trata de otro de mis esmaltes de Deliplus, la marca de cosmética de los supermercados Mercadona. Yo lo llamo cariñosamente "mi rojo flamenco" y hasta hace muy poco, era el único rojo puro de mi colección.
I took the liberty of using some pictures from the vault today and show you one of the polishes I painted my nails with last summer. It's from Deliplus, the make-up line exclusive to the Spanish supermarkets Mercadona. I have fondly nicknamed this 'my flamenco red' and until recently was the only pure red in my stash.

Día 1: Aplico una capa de base de Basic, seguida de una de este esmalte rojo, que tiene muy buena cobertura. La fórmula también se trabaja muy bien. No puedo hablar del secado, ya que le puse SV. No sé si será porque necesita un poco de Seche Restore, pero en algunas uñas me hizo alguna pequeña burbujita, aunque no se nota. Antes de que me diera fuerte con el maquillaje y los esmaltes, cuando aún no sabía lo que era un topcoat, este esmalte me duró casi una semana intacto, sobreviviendo a un lavado de pelo y casi a un segundo.
Sospecho que este esmalte podría servir muy bien para estampación, ya que es muy cubriente. Mi esmalte está fabricado por Procesos Cosméticos S.A., aunque que yo sepa lo compré antes de que cambiaran de fabricante.
Day 1: A coat of base from Basic and one of this vibrant red shade. Coverage and formula are excellent. I cannot really comment on drying time as I sped it up with some SV. I don't know if I should add a little bit more Seche Restore to my bottle, as I got some tiny bubbles on a few nails, though luckily, not very noticeable. Before the make-up/nail polish bug hit me, when I didn't even know what a topcoat was, this polish wore almost a week intact on me, making it through a hairwash and almost to a second one.
I got a feeling this could do very well as a stamping polish, given its pigmentation. My bottle is made by Procesos Cosméticos S.A., although as far as I know I bought this before they changed manufacturers.
Día 2: Por la tarde, intento hacer una estampación con una de las placas que compré en Beautik, en concreto, usando el diseño del ancla, para darle un toque marinero a mis uñas. Me pareció que quedaría bien la combinación con este color rojo tan vivo. Con lo que no contaba era con que no iba a poder transferir bien el diseño: al raspar el esmalte -usé el Stampy blanco de Essence-, pasó al diseño siguiente y luego al pasar el sello por las uñas, quedaba un ancla similar a la del Titanic tras casi 100 años en el fondo del mar: desastrosa. Para ocultar semejante desaguisado, una capita del crackling negro de P2. Y es que intenté borrar el cutre-diseño y volverlo a intentar, pero no me acordé de que había puesto un poco de quitaesmaltes en el disco de algodón para limpiar la placa y me llevé el Seche Vite y un poco de color por delante. Sólo me pasó en la mano izquierda (no me quedaron ganas de seguir con la derecha, básicamente). ¿Habéis tenido alguna manicura desastrosa últimamente?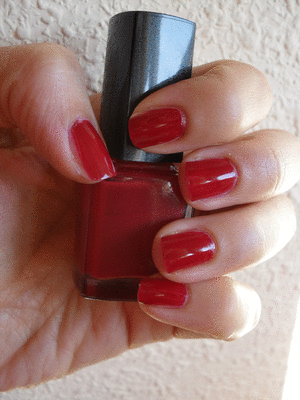 How to make gif
Day 2: In the evening, I try to do a stamping with one of the plates I got at Beautik, in particular using the anchor design to give my nails a marine look. I thought it would look great with this vibrant red, but what I didn't count on was my inability to transfer the image properly: while scraping my Essence stampy polish in white, it transferred onto the next image and then when I stamped it onto my nails, all I got was a crappy anchor, similar to the one in the Titanic after 100 years underwater: utterly and completely disastrous. In order to hide the disaster, I used my P2 crackling in black. Why? Because when I tried to clean up the mess to start from scratch, I forgot I had put on some nail polish remover on my cotton pad to clean the plate and took my Seche Vite and some of the colour in the process. It just happened on my left hand, but simply because I did not risk giving my right a try, basically. What's your most recent manicure fail?