En la capital de Estonia, podemos encontrar muchas de las tiendas que tenemos habitualmente en la mayoría de ciudades españolas (del grupo Inditex, Mango, H&M) y también otras exclusivas de Escandinavia, como por ejemplo
Stockmann
o
Seppälä
.
Lo cierto es que Estonia no me ha parecido un país caro, aunque evidentemente tampoco me suelo fijar en las tiendas caras de diseñador ni comer en restaurantes de tres estrellas Michelin.
Estonia's capital has many of the stores we're used to having in Spain (those from the Inditex group, Mango, H&M) as well as others exclusive to Scandinavia, as is the case of
Stockmann
or
Seppälä
for instance.
The truth is I didn't find Estonia a particularly expensive place to shop, though obviously I'm not one heading for upmarket, designer stores nor 3-Michelin-star restaurants.
Como os comentaba en las entradas de la guía de viaje, visité tres centros comerciales en Tallinn, de los que os voy a hablar a continuación.
Curiosamente, no he visto casi ninguna tienda fuera de los centros comerciales, salvo alguna pequeña tienda de ropa en la Ciudad Vieja, pero poca cosa, por lo que si estáis pensando en ir de compras allí, yo me iría directamente a algún centro comercial.
As I mentioned in my Tallinn Travel Guide posts, I visited three shopping centres in Tallinn which I'll review now.
Strangely enough, I have seen almost no stores outside these shopping centres, except for a couple of small clothing shops in the Old Town, but not many really, so if you'd like to do some shopping there, I'd head straight away for some shopping centre or other.
Justo pegando al Old Town y por lo tanto, muy céntrico, tenemos el
Viru Keskus
, un gran centro comercial. Allí podemos encontrar un montón de tiendas de todo tipo, así como restaurantes y algunos puestecillos.
Como viajaba yo sola, no me atreví a hacer fotos así "de estrangis", mis famosas spy-cams, pero sí que he hecho de algunos escaparates. También tomé nota de las distintas marcas que podemos encontrar allí, especialmente en las perfumerías, ;) En Kaubamaja pedí permiso para hacer fotos de algún mueble y me dijeron que no.
Right outside the Old Town and therefore quite centrally located, we have
Viru Keskus
,
a big shopping centre. There are lots of different stores inside, as well as restaurants and some stalls.
Since I was travelling by myself, I didn't dare to take any undercover or 'spy-cam' pictures, but I did take photos of the outside of some of the stores. I also wrote down the different brands available there, especially as far as drugstores/perfumeries are concerned. I did ask permission to take some pics of the counters at Kaubamaja when I was at the checkout but they said no.
En el Viru tenemos tiendas como Accesorize, Zara, Guess, Mango, Vero Moda y conocí una nueva cadena de bisutería y complementos:
Expressions
, que tenía cosas muy monas. Creo que es de Estonia porque todas las tiendas que aparecen en el buscador de la página están en Estonia, aunque no estoy segura.
Su página no tiene gran cosa, pero compré una revista en la que vienen varias páginas con productos de esta tienda, así que las he escaneado para ilustrar más el post (como si no subiera siempre un montón de fotos, jeje).
Tenía entendido que las tiendas de Accesorize de Estonia vendían la gama de cosméticos, pero no fue el caso de las dos tiendas de esta cadena que visité en Tallin.
At Viru we can find international stores like Accesorize, Zara, Guess, Mango and Vero Moda and I was also introduced to a new jewelry/accesories store,
Expressions
,
which had some really cute stuff. I think it's a local Estonian chainstore as the store locator only lists stores in Estonia, but I'm not sure. Their corporate website is no big deal, so I've scanned the pages from a magazine I bought at the airport, for illustration purposes (as if I didn't do enough picture spam already, lol).
I understood the Accesorize stores in Estonia sold cosmetics but it was not the case of the two stores I went to in Tallinn.
En cuanto a cosméticos y belleza, podemos encontrar varias tiendas desconocidas por estos lares, como
Stenders
de jabones naturales y la perfumería
Kaubamaja
(la sección de perfumería de El Corte Inglés me pareció una birria al lado de esta tienda, especialmente porque no sólo tiene una amplia oferta de marcas de alta cosmética, sino también de otras más accesibles).
En el Virus Keskus también encontramos otras más conocidas como The Body Shop o L'Occitane.
Kaubamaja tiene unos grandes almacenes justo al otro lado del Viru Keskus, que no visité. Del Kaubamaja que hablo es únicamente la perfumería Kaubamaja Ilumaailm.
En esta perfumería hice la mayoría de las compras. Encontramos stands de marcas muy extendidas por todo el mundo como L'Oreal, Maybelline o Bourjois y otras no tanto, como las alemanas
Manhattan
o ArtDeco,
Gosh
,
Make up Factory
además de otras marcas nórdicas como
Lumene
o las suecas Isadora y
Depend
(sólo los cracklings) y dentro de la cosmética más exclusiva, aparte de las habituales, tenían incluso Armani.
Fuente /
Source
:
zonkosworld
As for beauty stores, we can find several stores unknown to many of us such as
Stenders
-natural products, mainly soaps- and the perfumery Kaubamaja (the cosmetics section at ECI seemed ridiculously tiny and boring in comparison, as it does not only offer a huge range of high-end brands but also some lower-priced options).
There are other popular beauty stores at Viru Keskus like The Body Shop or L'Occitane.
There's another
Kaubamaja
on the other side of the street, outside Viru Keskus, a department store which I didn't visit and therefore the Kaubamaja I'll be mentioning in this post is the Kaubamaja Ilumaailm perfumery inside VK.
This is the place I bought most of the stuff. You'll find displays from some widespread brands like L'Oreal, Maybelline or Bourjois and from others not so widespread as the German
Manhattan
and ArtDeco
,
Gosh
or
Make up Factory
,
as well as some popular nordic brands like
Lumene
and the Swedish Isadora and
Depend
(just the crackle polishes, though).
Incluso tenían cosas sueltas (en una especie de peceras) de marcas como
BYS
-barras y brillos de labios-, de
Copines
(dúos de sombras) o de la línea
PURE
de Carlo di Roma (perfiladores), que aunque es española yo jamás en la vida la había tenido enfrente.
Para las aficionadas a pintaros las uñas, un gran stand de OPI (10,30€ cada esmalte, creo) y otro de
Essie
(8€), así como de la marca alemana
Alessandro
. Tenían varias ediciones limitadas de Alessandro. Estuve a punto de traerme algún kit de esmalte magnético+imán y ahora lamento no haber cogido ninguno.
They had some spare stuff from assorted brands (inside fish-bowls) like some
BYS
products (lipsticks and lipglosses),
Copines
(eyeshadow duos) or the higher-end line from the Spanish Carlo di Roma,
PURE
(it may be Spanish, but I'd never seen that before face to face -they had some eyeliners and eye pencils from Pure).
For nailpolish lovers, there's a big OPI display awaiting you (10.30 EUR a piece, I think) and another one from
Essie
(8 EUR), as well as a counter from the German brand
Alessandro
.
They also had some Alessandro LEs. I almost got the star magnetic nail polish + magnet kit and now I regret I didn't.
Fuente /
Source
:
lacquerized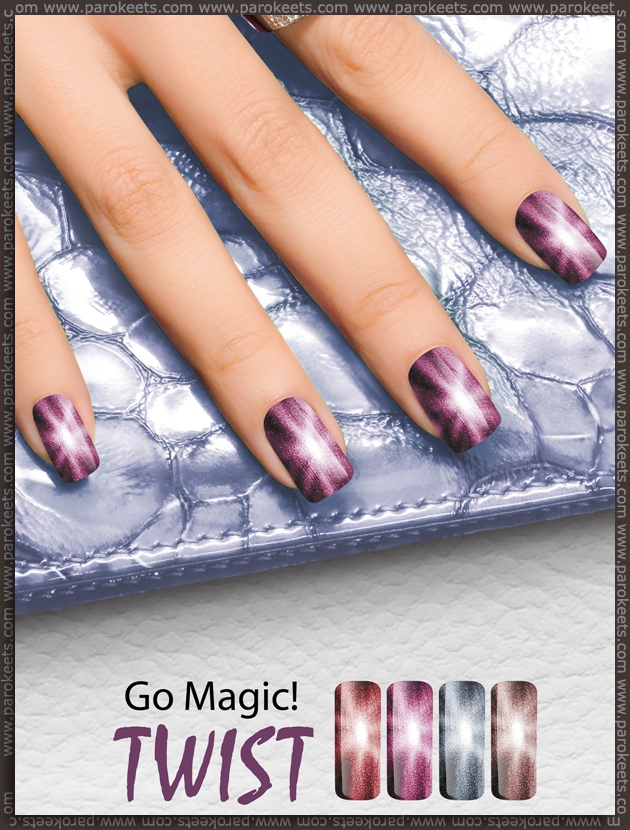 Fuente /
Source
:
Parokeets
Entre los puestecillos que comentaba de la primera planta, había uno de Konad. Tenían las placas a 5€, aunque no me llamó especialmente la atención ninguna y tras mucho mirar, me vine de vacío.
Un detalle que me ha gustado mucho de las tiendas en Estonia es que las dependientas no están encima de ti ni te preguntan qué quieres, lo que para mí es estupendo porque de lo contrario "me cortan el rollo". Eso sí, no me dieron ninguna muestra con mi compra.
If you remember the stalls on the ground floor I mentioned, there was one from Konad that sold image plates for 5 EUR. After a long time in front of the stall, I came back empty-handed as none of the plates really caught my eye.
There was something I really liked about Estonian shops or shop assistants more like. Unlike in Spain, they don't come onto you, asking what you want and let you visit the store. I find nosy shop assistants quite off-putting, really. I didn't get any samples, though.
Y para algunas, imagino que esta tienda será lo más.
And for some, this store must be be like heaven on earth.
En la segunda parte, hablaré de los otros dos centros comerciales que visité, el Rocca al Mare y Foorum. También tengo pendiente enseñaros (incluida a Marian) las compras que hice.
In Part 2, I'll talk about the other two shopping centres I went to, the Rocca al Mare and Foorum. I also have to write my Tallinn haul post.