Hoy os traigo el que es hasta el momento, mi único esmalte de la marca
H&M
. Era un tono que tenía en mi wishlist, y por una vez, me mantuve firme y no me dejé llevar para terminar comprando algún otro tono similar a otros que ya tengo, como los que os hemos enseñado en nuestros 'Parecidos Razonables'. Efectivamente, el Hunt me Down (me parto con los nombrecitos de los esmaltes) es un tono único, similar al
Khaki Vert
de Chanel, un verde militar que una vez puesto, queda muy elegante.
I have another polish for you today, my first and only H&M to date. It was a colour I had in my wishlist and just for once I stayed strong and stuck to this one, instead of grabbing another shade that will most likely end up being a close dupe to others in my stash -and later in our 'Reasonable Lookalikes' series. Hunt me Down -polish names crack me up, lol- is indeed a unique colour in my collection, similar to the famous Khaki Vert from Chanel, a military green that looks very elegant when you put it on.
Si os gusta este tono y no os apetece gastaros el pastizal que cuesta el de Chanel -unos 22 €- el de H&M puede ser una buena alternativa, aunque no la única. Contiene 9ml/0,3 fl. oz. de producto y cuesta 3,95€. Si al igual que yo, en vuestra ciudad no hay H&M, tenéis otras opciones. Cuando estuvimos en Madrid, en Kiko vi una gama de tonos militares entre las nuevas lacas de uñas que ha sacado la marca, y que, al menos de momento, están rebajadas a 2,50 €. En Essence que yo sepa, no existe algo similar, al menos en la línea permanente actual.
If you like the colour but don't want to pay the small fortune the Chanel costs -at around €22 is not exactly budget-friendly, the H&M is a good option. It gives you 9ml/0.3 fl oz of product and is €3.95. It's not the only alternative, there's a similar shade among the new releases from Kiko that I remember seeing in Madrid and luckily the price tag for those has gone down to €2.50. How long that will last I don't know. As far as I'm aware of, I haven't seen any dupes from Essence, or at least not in their current permanent collection.
Me pinté las uñas con él un domingo por la noche, aplicando antes una capa de la base de P2. Utilicé una capa generosa del Hunt me Down y rematé con una de Seche Vite. Antes de echarlo, me dio la impresión de que el esmalte quedaría con mucho brillo aún sin él. La aplicación sin problemas, aunque la forma tan poco 'ergonómica' del tapón se me hizo un poco incómoda respecto a otras marcas. Nada grave, en cualquier caso.
I painted my nails with this on a Sunday evening, applying first one coat of P2's 'Base and Care Coat'. I used one thick layer of Hunt me Down and topped it all with some Seche Vite. Before doing so, I thought the polish was very glossy all on its own. Application was flawless, despite the odd shape of the cap, slightly more difficult to handle than those from other brands I've used. Nothing to worry about, though.
Los primeros desconchones empezaron a aparecer el martes por la tarde, en el pulgar izquierdo y en el dedo corazón de la mano derecha. Otras uñas 'amenazaban' con desconcharse pronto. Por la noche, me puse a experimentar con la estampación y usé uno de los diseños con motivos animales de una de las placas de Essence, que ya había usado otras veces. Lo hice en todos los dedos salvo en los anulares y usé para ello el esmalte gris de Kiko que compartí con vosotras aquí. El de Kiko estampa bastante bien, aunque yo necesito más práctica, evidentemente. Me cuesta algo más transferir los diseños de uña completa que los motivos más pequeños. En los dedos en los que hice estampación, apliqué una capa del top coat mate de Fairwind, que compré en Schlecker. No forma parte de su línea permanente, así que si buscáis algo similar y no os importa pagar un poquitín más, tenéis el de Essence y el de Claire's.
The first signs of chipping began to appear on Tuesday evening, on my left thumb and right middle finger. Other nails were 'threatening' to get chipped soon. At night, I decided to play around with my stamping set and used one of the designs on the Essence animal print plate that I'd used before. I did all my fingers except my ring ones and used the grey Kiko lacquer I showed you here for stamping. The Kiko makes a nice stamping polish though I definitely need more practice. I have a harder time transferring a full nail design onto my nails than a small one. In the nails I stamped, I applied one coat of mattifying topcoat -Fairwind from Schlecker in my case. It's not in their permanent range, so if you're looking for something similar you can try Essence or Claire's instead.
A última hora de ese mismo día, tengo un gran desconchón en la uña del dedo corazón derecho, probablemente por haber matificado -me ha pasado otras veces-.
Al día siguiente, miércoles, me las despinto, ya que me iba a lavar el pelo, pero no sin antes hacer unas fotos rapiditas.
Later that day, I have a huge chip in my right middle finger, probably because of mattifying -it's happened before. The next day, Wednesday I removed it because I was going to wash my hair, but managed to do a quick photoshoot before that.
Resumiendo, me ha gustado mi primer esmalte de H&M y quizá no sea el último, aunque procuraré controlarme y escoger únicamente aquellos tonos 'especiales' que no pueda encontrar en otra marca más baratita como Essence, que en relación calidad-precio, para mí no tiene competencia.
Los productos de maquillaje de H&M no están disponibles en todas las tiendas, sólo en algunas. Probablemente, cuando abra Beautik en Salamanca me dé una vuelta por allí, puesto que el de la calle Toro -o Zamora, que nunca las distingo- sí que tiene y está muy cerca del futuro Beautik.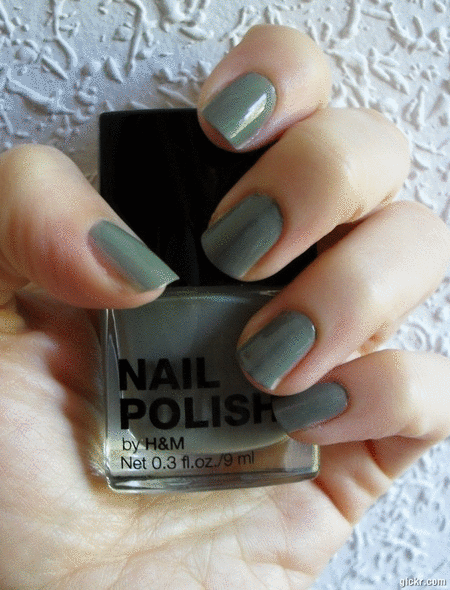 To sum up, I really liked my first H&M polish and most likely won't be my last, though I'll try to restrain myself and only choose those 'special' shades I can't find in a cheaper brand like Essence, which are excellent value for money imo -and no contest, probably. H&M make-up line is not available in all their stores, just in some. I'll probably check these out again when the Beautik store in Salamanca opens early in the summer, because the store at Calle Toro -or Zamora, I can never tell one street from the other- does carry them and is pretty close.
¿Tenéis algún producto de maquillaje de H&M? ¿Alguna recomendación -de esmaltes u otra cosa?
Do you own any H&M make-up? Any suggestions -polish or otherwise?